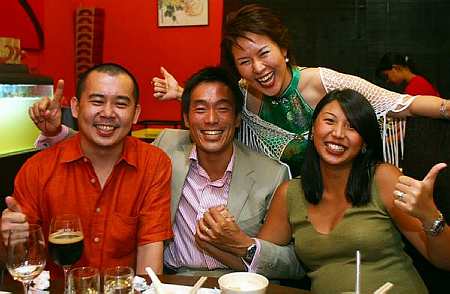 IT'S LOVELY:Mark Cheng(seated centre)with Malaysian wife Pow(right)and local business partners Lee and Yeap(standing)are full of praise for the island at their Penang restaurant yesterday

Thursday, 30 September 2004
Hong Kong actor Mark Cheng Ho Nam is the latest among Hong Kong and Taiwan celebrities who are investing in Penang property.

A year after opening his hot pot Flame Restaurant in Jalan Imbi in Kuala Lumpur, Cheng set his eyes on Penang.

In July, he opened the second outlet at a rented bungalow along Jalan Bagan Jermal here together with two Penang partners V James Lee, 32, and Keiko Mapple Yeap, 29.

He has settled down in Kuala Lumpur with his Malaysian wife Ailyn Pow, 27, in Phileo Promenade at Jalan Tun Razak, Kuala Lumpur, since 1999.

Now Cheng, 40, has 'marked out' a second home, a condominium with a sea view in Penang.
Penang is a very attractive place for property investment and business venture and the rental of outlets in Penang is also cheaper compared to Kuala Lumpur, he said in an interview at his latest restaurant yesterday.

Looking affectionately at his wife who is pregnant with their first baby, due in November, the actor said the deal for their Penang home would most likely be finalised after the babys arrival or latest by Chinese New Year.

Born in Hong Kong, Cheng migrated with his family to Vancouver, Canada, when he was 13 and after finishing high school at 18, he returned to Hong Kong and got into modelling and eventually, acting and singing.

He made his debut on the silver screen in 1985 playing a tanned boat captain alongside actress-singer Sally Yeh in Cupid 1.

It was during a three-month stint in Kuala Lumpur in 1999 to shoot a HVD Chinese mini series that Cupid really struck when he set eyes on Pow who was then an executive at the advertising firm Leo Burnett.

After two months of courtship, Cheng returned to Hong Kong and within two weeks, he sold off his house and car and returned with his luggage to Malaysia to be with the woman whom his sixth sense told him would eventually become his wife.

I have lived in Beijing and in Japan and a lot of countries but got no roots except for Canada where my parents and two brothers are. But now, I have roots in Malaysia, said Cheng who had found a school in Kuala Lumpur for his baby girl, to be named Jada.

Among big names in the entertainment industry who have reportedly invested in Penang property are former Bond girl Datuk Michelle Yeoh, action superstar Jackie Chan and Heavenly King Andy Lau.

Taiwanese singer and actor Richie Jen had also expressed his intention to buy a holiday and retirement home here, when he visited Penang last June.
-STAR-